Overview of TEFL Plus Spanish course:
This course includes our 4-week TEFL intensive course plus a 1-week intensive Spanish course in our fabulous Spanish school www.laemadrid.com.
You can take the intensive Spanish course the week before or the week after your TEFL course. If you don't have any Spanish at all, we highly recommend you take it before the TEFL course to help you enjoy Spain a little more, to make is easier to shop and to make friends with the locals.
It is very important to know that to teach English in Spain, you don't need to speak any Spanish whatsoever. The idea of including Spanish is to enhance your experience here and make the first weeks a little easier.
What should I expect on the Spanish course?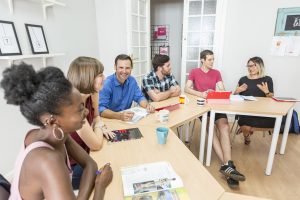 The classes are from 09.30 to 13.30 (Monday to Friday). We also have 3 cultural activities each week from cooking classes to walks in the parks, and of course visiting local bars to eat the fantastic tapas that Spain is famous for.
Our Spanish teachers are degree-qualified with a TEFL-like certificate for teaching Spanish (called the ELE). This means they (just like you will be as a TEFL teacher) are extremely well-trained, interactive and good at what they do.
Who is this course for?
European passport holders
Those on spousal work visas (or any type of visa that gives you rights to work in Spain)
Non-European passport holders that only want to do the course and not work afterwards
Not sure if this is you? Don't worry: email our LETS Academic Program Manager, with as many questions as you have at helen@lets.education  and she will help you work it all out.
Price: 1570€
(discounted price as a TtMadrid student)
What is included in the course price?
What is my next step?
Contact our LETS Academic Program Manager, with as many questions as you have at helen@lets.education and she will organize a time to have a chat with you and send you some more information. Helen is lovely and really helpful, so ask her as many questions as you can think of!