Housing Agent
Moving to a foreign country is an exciting adventure until you need somewhere to live and find yourself on the phone with a Spanish real estate agent who speaks 100 miles per hour! Temporary accommodation is usually the best option if you are moving to Madrid from another country.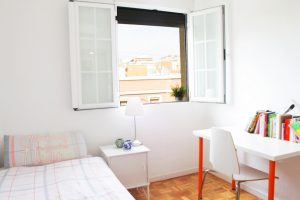 This is our reasoning:
You don't know Madrid—the different barrios around Madrid all have their own personality and you won't know what you like until you experience them.
You probably don't know anyone so you don't know where your future best friend will live, or whether you could get a flat together!
You don't know where you'll be working. If you get a job in a school or company in the north of Madrid and your apartment is in the south, then your mornings will suck. Once you have your jobs in place, you can plan your ideal location accordingly.
To this end, we have adjusted our prices for a two-month let. This gives you time to arrive for a few days before the course, do the course with stability, then get your jobs sorted and finally spend the last few weeks looking for your new apartment with your new amigos from the course (you will need to do extensive drinking outside in the plazas—in the name of research of course!)
Procedure
Our housing department will make an introduction email and they will send you photos of rooms available for your arrival date. You can choose the place 
you prefer and they will arrange for someone to be at the flat with keys upon your arrival. This room will be yours for a minimum of 2 months, longer if you want. The advantage of using this agent is that you only have to pay the deposit of 300€ before you arrive (others can ask for up to 1000€), it doesn't require any bank guarantees, and you can stay as long as you like.
Rooms cost 660€ per month, so 1320€ in total and there is no 'agency finders fee' to pay. Each flat comes with the internet and a cleaner once a week for the communal areas. From our experience, this is the most hassle-free option available—and we're there to help you every step of the way.
Aluni.net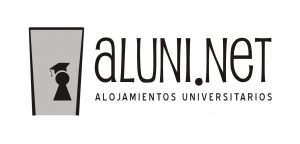 ALUNI.net is a company dedicated to the management and marketing of housing accommodation for students and young professionals throughout Spain. Their mission is to provide a high-quality accommodation experience set in a comfortable environment that both caters to the needs of university students and fosters a friendly coexistence between students from different cultures. ALUNI has hosted nearly 20,000 students in more than 500 flats.
The ALUNI.net staff consists entirely of alumni of study abroad programs, and because of this, they have a firsthand understanding of the needs and expectations of students seeking accommodation in Spain.
Going it alone
For those who want to come here and find somewhere completely by themselves, we suggest the following websites:
TtMadrid provides its own housing so we aren't responsible for accommodation found through any of these sites. We are always here to support you with housing and have a housing advisor (housing@lets.education) on hand to help guide you through your move – if you are not sure about what you have been offered then send it over and we can look into it for you! There are lots of scams around housing so please do follow our suggestions. Never send money directly to bank accounts when using these websites, or in most cases before you see a flat, especially with Airbnb, which has become very popular with people arriving in Madrid. Never send money to a bank account outside of Spain and also request identification if you are sending money to someone you have not met in person, or have met online.
Homestay Exchange Program with families in Spain
If you have budget considerations, you can cut down on living expenses through a homestay program. They will provide accommodation and meals in exchange for conversational English (2h a day Monday through Thursday only). Families typically request Americans, Canadians, British & Irish, Australians & NZ under 30 years old. There is no curfew and the rest of the time you are free to work, travel and visit places. All day Friday, Saturday and Sunday are all yours. This homestay can last as little as 2 months and go up to 6 or 9 months.
Please think carefully about choosing this option during your course as you will have extensive homework and the TEFL course is very intense. We would really only recommend this option for graduates that have finished the TEFL course.
If interested, you can contact the Founder Nino González-Aller:
Nino González-Aller — International Exchange Program Coordinator
Homestay Exchanges in Spain
Facebook: Homestay Exchange Spain
Please note: For all external housing providers, TtMadrid is in no way responsible for any of the websites or programs listed herein and is not liable to cover any monies paid for accommodation with external providers, mentioned here or otherwise.