Christmas is a time when the cities are prettier, there are lights everywhere and people enjoy geting together with family and friends. Christmas in Madrid is well known for having festive activities and being one of the top destinations in Spain to celebrate. Here we give you five reasons to enjoy the most wonderful time of the year in Madrid.
Although northern Europe is famous for its Christmas markets, Madrid has a wide variety of styles of Christmas markets to offer with a magical Christmas atmosphere. Not only will you find unique gifts for your family and friends, but you will also be delighted by the beautiful lights and decorations, nativity scenes and typical food like churros and chocolate. Take a look at our post on Christmas Markets to check out where you can go!
Typical Spanish Christmas food: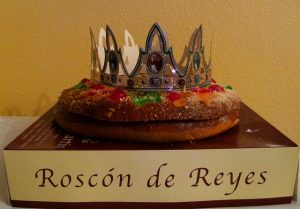 Churros with hot chocolate, Roscón de Reyes (traditional Christmastime ring-shaped cake), turrón (nougat candy and special Christmas pre-set menus are just some of the delectable food that you'll find in Madrid at this time of the year. Madrid has some of the best bakeries and restaurants in the country to have this and authentic food markets like Mercado de San Antón and Mercado San Miguel that you will not want to miss.
Unique cultural experiences:
This holiday season Madrid is hosting the best cultural activities like Cirque du Soleil's Totem, Harry Potter's Exhibition and La Bohéme. You'll definitely not want to miss them so take a a look at their websites to find out ticket prices and availability.
Madrid loves a good party and on New Year's Eve you'll find several places to dine and drink in style and have a blast. At Puerta del Sol you have the Spanish equivalent to the ball drop in Times' Square. The crowd gathers with their cava (Spanish sparkling white wine) and 12 grapes to ring in the New Year – you can catch it on national TV as well if don't feel like braving the cold. There's a full list of NY parties in Madrid here.
Watch the 'Reyes' parade:
In Spain the big day for presents is on January 6th to celebrate the Three Wise Men. The day before there are many local parades for the children to give their letters asking for gifts but in Madrid you can catch the biggest parade. It's very artistic and last three hours with a variety of floats, bands and acrobats. For more info on how to go visit Madrid's official website for all Christmas activities.
What are some other reasons to spend Christmas in Madrid? Share them with us!
Follow us on Facebook and let us know why you think Madrid is the best city to spend the holidays.