Teach English in Spain with TtMadrid's TEFL course
At TtMadrid, we have spent over 10 years getting the best contacts in the ESL industry in Spain. One of the biggest concerns you might have when moving to a foreign country is trying to secure work. Well, stop worrying and start packing, as TtMadrid's job support program is second to none.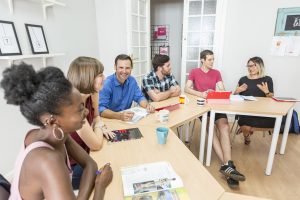 TtMadrid is committed to offering you complete "after TEFL" support. This includes helping you find all the teaching jobs you desire and keeping your teaching schedule full. For this reason, we have an excellent relationship with the top English language agencies in Madrid, who all recognize the quality of our course and prefer to hire our graduates. All our graduates are guaranteed job interviews and we also provide you with our premium CV service which connects you with over 300 TESOL agencies and academies in Madrid and Spain. If interviews are not your strong point, don't worry! Helen will put you through your paces and make sure you present yourself so you'll have no problem finding work.
During your course, we spend time with you ensuring you have a teacher-focused CV/resume. As we move into the last week of the course, we have a job workshop to explain the type of English teaching positions that are available to you and the systems we have in place to get you teaching jobs initially and then our continued job support. This is available for as long as you need it—1 week, 1 year or the rest of your life if you like!
In addition to this, we complete an interviewing skills workshop while you're on the TtMadrid TEFL course to ensure you know how to sell yourself to the agencies. As well as working for schools, academies and agencies, you will also want to do some private work and our Marketing guru is on hand to give you a course on marketing and branding yourself so you get the best jobs and the highest rates.
Putting together your teaching schedule is a little like putting together a jigsaw of the sky—it's difficult to see which bits go where. You can come in and see us, phone us or email us and we will always be on hand to talk you through it and help you chose the right teaching jobs for you until you have your golden schedule.
Helen is available every afternoon for appointments to help you sort out any worries or concerns or to give you job advice. Helen receives job openings for English teachers all over Spain on a daily basis and she sends them out to all our graduates on regular Job Alerts emails (these are usually daily with 5 to 6 jobs on each email). We make your jobs our top priority once you have finished the course, and we are relentless until you have exactly what you want and need.
How easy is it to find English teaching jobs in Madrid?
You may have heard about the financial crisis in Spain, but as the job market has changed, the need to know English has increased dramatically. This means that the amount of work for English teachers has skyrocketed. Most jobs require a good level of English – businesses need employees who can do business in the international business language and parents want to give their children the best head start possible with private or academy-based English classes.
We go above and beyond when it comes to getting our graduates jobs and we are constantly connecting with the schools, academies and agencies ensuring that all jobs get offered to our graduates first.
Here's some background on just a few of the top agencies we'll introduce you to:
TEFL Jobs World
Established TEFL job site with a large amount of country guides and useful information written by experienced TEFL teachers. This includes a section on Spain.
Profesor Inglés
Profesor inglés is collaborating with us to help teachers find work in Madrid, Barcelona and Spain. Teachers who post their CVs soon get work offers and fill up their schedules. We recommend posting.
English Plus
Da un plus a tu vida—aprende inglés! New teachers and new students are always welcome.
The A Academy
The A Academy is a new but highly professional, dynamic language school that applies the latest teaching method to give their students an opportunity to learn, grow and have fun while taking classes. They offer unlimited support and guidance to all their teachers and students.
Elingua
Elingua es una compañía que combina las nuevas tecnologías de información con una vanguardista metodología en la lingüística aplicada. Nace de nuestra larga experiencia en el campo de los recursos humanos, consultoría y formación lingüística corporativa. Somos una empresa líder en la enseñanza de idiomas, con metodología online, blended y mobile learning propia, mediante cursos de gran calidad y eficacia.
Mad English
Mad English es una academia de inglés situada en Alonso Martínez, con un selecto equipo de 6 profesores nativos, titulados y entrenados con nuestro método propio: TELL (Teaching English as a Living Language). Con este método te enseñamos a comunicarte en Inglés de una forma orgánica y divertida. Por eso todas nuestras clases siguen una dinámica en la que se incorporan los 5 pilares de la comunicación: gramática, vocabulario, conversación, comprensión y pronunciación, buscando siempre la seguridad y la confianza del alumno. En casa trabajas la lectura y la escritura, y en clase la parte oral. Sea cual sea tu talento, en Mad English buscamos que lo puedas desarrollar también en inglés y que consigas tus objetivos de manera personalizada.
Brown and White
This is a small agency run by Nadia (and we love her!). She really supports and looks after our graduates and about 80% of her teaching staff are our graduates. She supplies you with up-to-date material and runs very professional in-company classes.
Kleinson
These boys are a new breed in the TEFL industry and combine NLP and accelerated learning techniques to give students the best chance of success. They offer great support and have a high tech lesson planning tool that teachers are raving about.
PEC
Pembroke Educational Consultants is an extremely professional and sophisticated agency that offers classes in excellent locations through the center of Madrid. They have a conveniently located office with valuable resources for their teachers. Belén is wonderful (and we get lovely chocolates from her at Christmas!)
English Systems – Language Consultants
Since 1989 we have been of the most highly regarded and best known consultancies in the language teaching sector and have achieved this thanks to our team of teachers, commitment to innovation and customer service. We are proud to have contributed to the training of the upwards of 70,000 students who have had class with us. Over these 25 years we have had the pleasure of working together with some of the country's leading companies and institutions, amongst others: Acerinox, AXA Seguros, Bristol Myers, Citigroup, Consejo Superior de Deportes, Covance, Deloitte, El Corte Inglés, Grupo Telefónica, Iberdrola, Microsoft, Patrimonio Nacional.
The Language Corner
Our schools are based in the east of Madrid, in Ciudad Lineal. This is very convenient for teachers and students alike since it is only a 15-minute metro ride from Sol. We've had many teachers come to work with us after completing a course with TtMadrid and have been very pleased with the quality of the preparation.
http://www.the-language-corner.com
Why take our word for it? This is what our graduates have to say:
"Most of my friends thought I was crazy when I left a very good job in marketing to pursue my dream of living and working in another country. My biggest concern about taking this step was whether I'd get work. I spent hours worrying, but knowing what I know now, I realise what a waste of time that was–thank you TtMadrid."
Paula (UK)
Update: I now run my own teaching/training agency with a few big clients. I have many Ttgrads working for me as I know the quality of their teaching is what my high end clients expect. I have been here for many years now and now call Madrid home!
Name: Jordyn Saunders
Age: 22
Where are you from? Charlotte, NC
Quote: "TtMadrid is a great program that really prepared me for the work force in Spain. It's a great network, even after the program is over, because it provides you with many company contacts, resources and is still a family-like community to rely on while abroad."
"I took a big risk leaving Australia; it's a long trip, very expensive, and I was afraid that I might not be able to find work. It seemed like a big leap at the time, but in retrospect the staff at TtMadrid made everything easy. I now have more work than I can cope with . . . although I always find time to drop into Tt to have a cuppa with Tash"
Robin (Australia)
Name: Mark Corne
Nationality: British
Quote: "TtMadrid was the best possible choice I could have made and I am reaping the rewards now. I walked straight into a fantastic job the day after completing the course and Tt Madrid is still a part of my life as there are many social events and I still go into the office and get valuable input."