Working Hours for English teachers in Madrid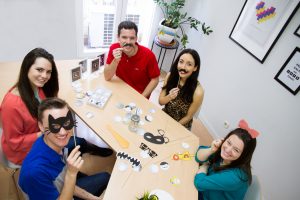 When we tell potential trainees that the normal working week is between 20 and 25 hours and often a four-day week, they think—that sounds easy, sign me up!! It's important to remember you have to add on travel time and lesson planning to your teaching hours. Even if you only work 4 days a week, you are likely to leave the house at around 7 in the morning and get home in the evening, depending on how clever you are with your timetable. TtMadrid will advise you on how to make the most of your schedule teaching English here in Madrid. If you work in an academy or school, you tend to work 5 days a week but have a more fixed schedule.
The typical schedules vary depending on whether you are teaching in companies, in an academy, in schools or private work.
Here are a few options for teaching English in Madrid:
In-Company Classes
In-company classes will generally always take place in the office of your client – i.e. the business. Most work with businesses are through agencies. Most agencies get a contract to provide all the English classes for a whole host of small and large companies, such as Microsoft and Banco de España. The types of classes tend to be groups (normally 4-6 per group), one-2-one (normally with senior management and directors), intensive courses (lasting from 1 to 5 days) and telephone classes (using Skype from your home). Most teachers have a mix of all these types of classes and levels and teach at 4 to 5 different companies. This type of work is particularly suited to those who want to pursue a professional business career (or have already had one) and use it as a networking opportunity/CV builder as well. It also suits people who don't want to teach children, although many graduates combine both adults and children, but we know it is not for everyone. You normally receive an hourly rate and get paid more for any specialization you bring i.e. finance, law, IT, etc. The variety of interesting people you meet and the freedom to build your own schedule to suit your lifestyle makes this type of teaching very attractive to many teachers. There is a constant demand for these classes and long after your schedule becomes full, you will still be receiving phone calls and emails with more offers.
If you are teaching 22-25 hours per week you should be taking home around 1300-1500 euro per month when you start out. If you want an idea on how much you can earn, or how much to save before making the move to Spain, email Helen for our Finance and Planning guide for moving abroad.
Academy Classes
Academies are privately owned (often by established English teachers) and tend to be open from 3.30 pm to 10 pm and meet the demand of the private sector. The majority of academies teach both children and adults and include exam preparation courses so you are generally expected to feel confident teaching a little of everything. The rise in this sector has in part been due to the financial crisis in Spain, as more parents want to ensure their children speak English well and companies want employees with a good level of English. The academies are often located outside the center but very well-connected by metro, bus or train. Most teachers don't mind travelling that little further as you can achieve many hours of classes in a row for block hours in one location. You may get paid an hourly rate or a salary that includes holiday pay–each academy works differently. Academy work suits teachers who like the variety of adults and children and are not 'morning' people!
If you have the standard 25-hour block, you will be taking home around 1200 euro and normally supplementing it with a few privates and/or lunchtime company classes so your final salary will be around 1350-1500 euro.
School Classes
Most schools are, or intend to be, bilingual (Spanish/English) and the curriculum is taught in both languages rather than having English as a separate subject. Overall the level is increasing but it is an ambitious project and it being supported by auxiliary teachers (teaching assistants) from native English-speaking countries such as the UK, USA, Canada, Australia and New Zealand. Due to varying circumstances, many of the teaching assistants leave the program throughout the year and we have developed an excellent relationship with the team that run the program. As soon as an opening arises (which is a couple of openings every week), they get in contact with us and we send it out to our grads. Obviously, in a school you are working with children, so some experience through summer camps, etc. is vital. You will be in one location and sometimes in the outskirts of Madrid, but you only make the trip once a day, so it is normally worth it. You get a salary rather than an hourly rate and therefore get paid holiday. You are not expected to 'teach' but to reinforce what they do in the classroom through games and activities so it really puts the grammar you learnt on the course and your energy levels to the test. The hours vary school-to-school, but quite a few of our graduates like the stability of the pay, the fact that it is in one location and the large amount of holidays you receive.
The contract is normally for 16 hours per week and pays 1000 euro which you will supplement with private and/or company classes in the evenings, bringing it up to around 1350 euro.
Private Classes
Most graduates supplement their income with private classes that normally take place in a bar/café or in the house of the student. Private classes tend to last for 1 hour to 1.5 hours twice a week, depending on what the student can afford. Whilst the market with adults is very strong, there is also a growing market for children as well. With private classes you can charge more as there is no 'middle man' but students tend to cancel more often. Many graduates find they get a lot of word-of-mouth recommendations. The average rate is between 20-25 euro per hour, although if you have a specialty that the student wants, you can charge 35-40 euro.
And finally…
It is important to remember that when you are a newbie teacher, you can't be as picky as the seasoned teacher. I always advise my graduates to be selective, but to remember that you need to prove you are a good teacher by being organized, responsible and on-time. Once the agency or school begins to see that you are someone they can rely on and you start to receive positive reports from your students, your schedule will begin to get better and better until you have your golden schedule (working the least amount of time for the most amount of pay with as many block hours as possible).
Finally, remember whether you are new to teaching or have been doing it for a long time, job satisfaction is the key to being a happy teacher. The TEFL industry can often be seen as a way to earn money until you find a 'real' job but for many of us who take it seriously and do well, it can mean a whole new career and a very happy career.
Finally, have a look at Bethan and Steve's experiences of getting a job and day-to-day life as a teacher.
---
Greg Collins—on-the-course Director of Kleinson 10 Años
In our experience, the teachers recommended to us by TtMadrid have always turned out to be well-trained, well-presented, well-prepared, well-organized and self-sufficient. Some of our star teachers have had their humble beginnings as TtMadrid graduates. Natasha and her team have put together an excellent program that produces teachers with the ability to teach the structures of the English language along with the imagination to produce their own class material whenever necessary.