Every November lots of guys leave a moustache on because of Movember. But… do we even know what this means? In this article, we will go through the best barbers in Madrid so that you can get one or make sure yours gets properly trimmed, but before, let's clarify the whole purpose of this movement:
Movember is an annual event involving the growing of moustaches during a month to raise awareness of men's health issues. It is not just fashion, it does not mean you are a hipster… it is about health! So, for all of you reading this, make sure that you book your appointment to the barber shop but also to the doctor for an annual check-up! Prevention can make a huge difference in your life! So now… let's check out some barber shops!
Peluquería de caballero BARBERSHOP TRADICIONAL (sin cita)
Located near our school in the Salamanca barrio, this popular barber shop is one of the best I've found in the city centre! The great thing is that you don't need an appointment and all the staff are friendly. Not only that, but you will also be able to purchase all types of products to keep your hair, moustache or beard the way you like it.
Website: https://peluqueriadecaballerobarbershop.negocio.site/
Address: Calle del Conde de Peñalver, 50, 28006 Madrid
Metro: Lista, Diego De Leon and Manuel Becerra
Barbers Crew
Located in Malasaña, this popular barber shop will give you the look you are dreaming of! Not only that, but you will also be able to purchase all types of products to keep your hair, moustache or beard the way you like it. Take a look at their website and book your appointment online!
Website: https://barberscrew.com
Address: Calle del Tesoro, 8, Malasaña
Metro: Noviciado or Tribunal.
Barbería Malayerba
From Tuesday to Saturday, from 11:00 to 20:00, the six barbers who work here are ready to do their magic and give you a brand-new look! (if that is what you are looking for!) They also have their own and popular line of products, so that you can take home with you all you need to keep your moustache in order.
Website: www.barberiamalayerba.es
Address: Plaza Dos de Mayo 3
Metro: Tribunal
Peluquería Vallejo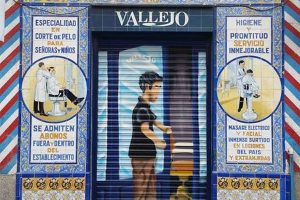 Located in downtown Madrid on Calle Santa Isabel 22, we find this small and traditional hairdresser and barber shop. Founded in 1908, today it is one of the oldest in Madrid that, having passed its legacy from parents to children, has managed to maintain its essence and remain one of the most important in the capital.
Website:http://www.peluqueriavallejo.es/
Address:  Calle de Santa Isabel, 22
Metro: Antón Martín
Barbería El Kinze
This barber opened its doors in 1900 and since then they have been giving an impeccable service to all of the men who go through their doors. They offer a wide variety of services, from traditional haircuts to modern ones, beard cuts and treatments, among others. If they have been popular for so many years, they must be good, don't you think? Book your appointment!
Website: http://barberiaelkinze.es
Address: Cuchilleros, 15
Metro: La Latina or Tirso de Molina
The Barber's Shop
In addition, of being a barbershop,this place seeks to become a cultural space where aesthetics and art coexist. For this reason, The Barber's Shop organizes exhibitions, concerts and monologues. A new concept that makes its customers live a multiple and much deeper experience.
Website:https://www.thebarbersshop.es/
Address: Avenida de América, 6
Metro: Cartagena
Bearbero
Looking for a circle beard? Maybe a petit goatee? Or a nice moustache to be part of the Movember movement? We've found the perfect place for you to get them! Bearbero is known for their professionalism and also for the nice atmosphere you'll enjoy while getting a new look. They take care of everything, from the music to the decoration and of course… their clients!
Website: https://bearbero.com
Address: Calle Embajadores 10
Metro: Embajadores
Lucas M36
Although it is a hairdresser, its owners Jorge and Jaime have have positioned  themselves among the best barbershops, in Madrid. Inside you can find a bookstore and iPads for you be entertained while waiting for your new cut!
Website: http://www.lucasm36.com/
Address: Calle del Monte Esquinza, 36
Metro: Rubén Darío
Urbano Peluqueros
Built in 1856, in the central neighborhood of Chueca Urbano Peluqueros offer a men's cut for 10 euros with super good quality. If you are planning on going, make an appointment first! This place is popular because they do a great job.
Website:https://www.facebook.com/pages/Urbano-Peluqueros/187618317929501
Address: Calle de Colón, 10
Metro: Chueca
Chester Barbería
The best hairdresser in the area! Very good price and you will always look great, nice and pleasant hairdresser with which you can talk about everything! You can also go there  with your dog!
Website:http://www.barberiachester.com/
Address: Calle la Serna del Monte, 4
Metro: Antonio Machado
Malditos bastardos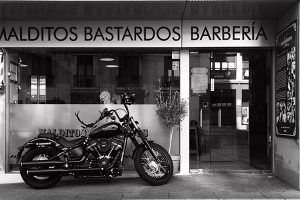 Located in the Mercado de Barceló we find a barbershop that looks from the 50s and 60s. The perfect place to get a nice and fancy look while you taste a good beer or bourbon to the rhythm of the best music.
Website: http://malditos-bastardos.com/
Address: Calle Barceló, 6
Metro: Tribunal
So… which one are you going to go to? Follow us on Facebook and let us know about your experience or send us a photo of your new look! Check out our blog for more about Madrid.