Teaching English as a foreign language is a great way of exploring the world, meeting new people and improving your language skills. Read about how TEFL changed Spencer's life!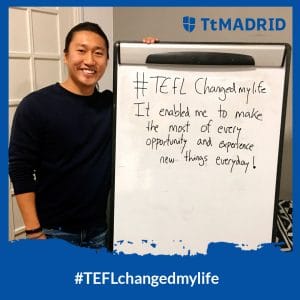 Name: Spencer Ross
Nationality: American
Studies: Marketing/Advertising
Years in Madrid: 2
TtMadrid Course: August 2016
I worked in sales in the USA and, after having studied abroad a couple of times, I was looking to have more adventures before I settled down to a job and got myself into too many commitments. As well as that, my goal was to move to a country I had never been to and learn a new language. As Spanish is becoming more popular and important for your career, Spain made the most sense.
I wanted a place with a good lifestyle, culture, and night life. Also, I wanted to be in a city that would be well connected to other countries so I could travel. Madrid ticked every box on my wish list and once I had done my research, TtMadrid was the ideal way to get qualified, find a job and learn the language.
In July 2016 I arrived in Madrid. I was able to achieve so much in such a short time, completed my TEFL course, before finding work in an academy and a Spanish public school and making the most of my time by learning Spanish and travelling around Europe. Moving to Europe helped me realize how much I was missing and allowed me to seek new opportunities and open up to new things and experiences.  I really am living an adventure.
If you want to find out more about our TEFL course  click here!