What can TEFL trainees expect from the course?
The TEFL course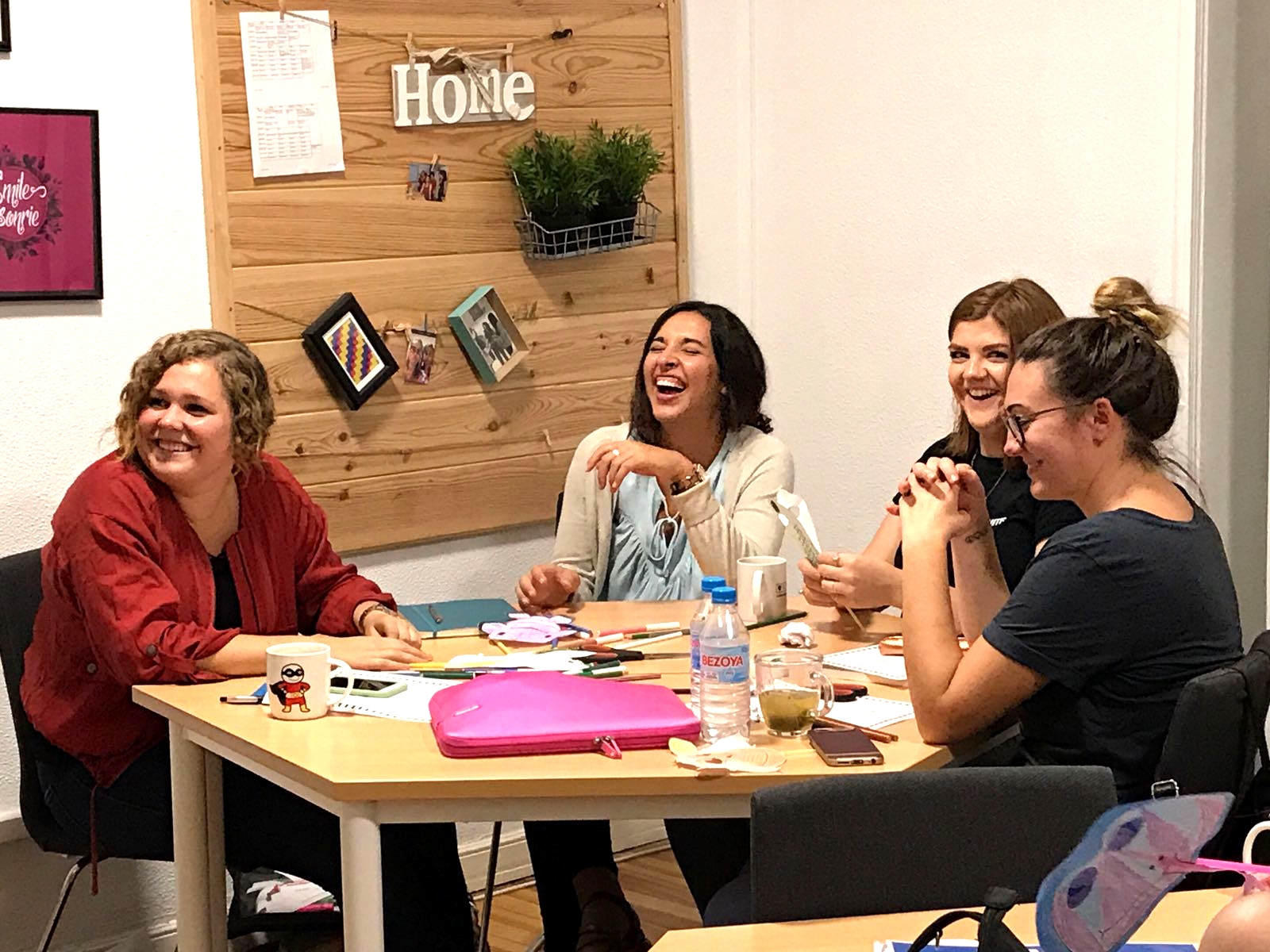 The TtMadrid TEFL course is both demanding and exciting. You will be required to work long hours and put 100% into the course. The more you put in, the more you get out of it. Remember, you are paying for the course and you therefore need to exploit every hour that we offer you. The more effort you put into this course, the better prepared you will be when you start teaching English. You will be in the school from 9.30 to around 6.30 every day. If you do about 2 hours of extra work each evening and about 8-10 hours over the weekend, you will keep on top of your lesson planning and coursework assignments and not get so stressed.
The course is very reflective and you will need to be able to assess your own strengths and weaknesses. We are all generally good at identifying our weaknesses but feel uncomfortable talking about our strengths. Before the course, ask friends and family what they think your strengths are and bring these ideas with you.
Prior to starting your TEFL course with us in Spain
Once you sign up for the course, we will email you the pre-course grammar preparation program. If you have limited grammar experience, it is vital that you don't just read this pack but complete all the activities. We can't stress enough how much easier this will make your first week in grammar lessons.
The emotional rollercoaster
Coming to Spain, like any new country, is very exciting, but upon arrival it can also seem like an overwhelming and disorientating transition. Remember that this is perfectly normal and all your fellow trainees will be going through the same journey as you. Feeling homesick is another very common feeling. Make sure your friends and family download Skype (www.skype.com) which will be a free and easy way to talk to them. Get your parents to send you a goodie box early on so you feel like you have contact with home.
Many trainees start a blog that friends and family can read so that you all feel in contact with the new stage of your life. WordPress (www.wordpress.com) hosts free blogs and it is easy to set up.
Make sure you pack a few comfort items that are difficult to get here, such as Veggimite for the Aussies, Marmite and Tetley for the Brits and peanut butter for the Americans.
The feedback from the agencies is that our trainees are better prepared than most because of the content of the course. This is particularly true due to the business elements of the course which will give you that step above the other trainees who are applying for the teaching jobs in Spain or elsewhere.
What can you expect from us?
Our course is professionally designed and covers all the elements you will need to be a fantastic teacher. Our school is well equipped and we have the most up-to-date materials and books.
We know that it is often difficult moving a long way from home to a foreign country and then starting an intensive course. We therefore support you throughout the course both on a professional and personal level. You will make friends for life on this course.
We have an excellent reputation, and keeping that reputation is paramount to our success. In the TEFL industry there are many schools that make promises they don't fulfill. We pride ourselves on living up to our promises and providing a personal service for all of our trainees and fulfilling or exceeding our trainees' expectations. Every single student that we have taught is testament to this and without exception, all of them would be happy to contact you to tell you about their experiences with TtMadrid.
See what academy directors have to say about hiring TtMadrid's teachers:
Language Academy—Windsor Idiomas

Janice Haywood—Windsor Idiomas
"Windsor Idiomas has been collaborating with TtMadrid for quite some time now. I trust them completely. They do a TEFL course which is not only of the highest standard, but provides exactly the type of skills that we need our teachers to have in today's EFL market. They also go that extra mile with their trainees, they really look after them and care about them.
I constantly recommend their course to those teachers who apply for work with us but don't have TEFL."
Janice Haywood
Director
Windsor Idiomas
Language Academy—Training Express S.L.
Rebecca Webb—Training Express
"TtMadrid graduates are highly sought after and respected in our industry. I know that when I hire someone from Tt that I'm going to get a teacher who's not only professional but trained to the highest level and immediately ready to start work. TtMadrid promotes excellence in education as well as creativity in teaching and innovation in teaching methodology—and that's exactly what I get as an employer when I employ a Tt graduate."
Rebecca Webb
Directora (Director)
Training Express S.L.