Flights
Once you have received confirmation from us securing your course place, we highly recommend you book your flight as soon as possible to minimize your costs.
Flights fly directly from all over the world to Madrid Barajas.
From Britain and Ireland there are direct flights from London Gatwick, London Stanstead, London Heathrow, London Luton, Bristol, Liverpool, Dublin, and Edinburgh to Madrid Barajas.
See:
www.cheapflights.com
www.easyjet.co.uk
www.opodo.co.uk
www.iberia.com
www.ba.com
If flying in from North America, there are daily flights from a very wide variety of cities from the East to the West coast. Book early for the best deals.
See:
www.usairways.com
If flights appear expensive, it may be worth considering a flight to London and a cheap economy flight to Madrid.
Barajas Airport has a metro which takes you directly to the center and is a very cheap way to travel. Their website is very easy to use and has an English option.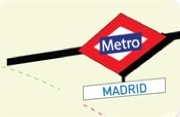 Please be careful on the metro. Thieves are experienced at picking out people who have just arrived and are busy watching their bags and looking at their Madrid Maps. Be aware and keep your money and important documents in a safe place.
If you decide to get a taxi, please ensure you get an official taxi outside the airport. It should cost between 25€ and 30€ for your journey.
Visas
If you are not from the European Union, a visa may be required for entry into Spain. It is advisable to check the exact entry requirements from your country of origin before leaving. You can find further information at the Spanish Embassy website which has an English version.
We also work with an immigration lawyer. If you would like information, please send an email to [email protected] and we will send you her details.