Summer in Madrid is an exciting place to be, filled with crowded, sunny terraces and good-looking people having a tinto de verano or a caña. Nonetheless, you will probably be planning some awesome trips so you'll need to make the most of the free tapas. These 7 restaurants will help you keep the bill low. That's right, these restaurants offer free tapas in Madrid when you order a drink. ¡Salud!
This restaurant is known as one of the best places to enjoy a caña (a small draft beer) and get delicious food. The plates of food vary from mini hamburgers to patatas bravas (fried potatoes with hot sauce). The atmosphere of the restaurant is great and the recommended days to go are Thursdays and Saturdays, depending on the time since the restaurant can get really packed.  Click here to see its location.
At Índalo you can choose the tapas you would like for free from their 20 option menu. The ingredients used for these delicious appetizers are fresh, good quality and use traditional produce. Ordering the tapa and CruzCampo beer can cost around 2, 90€. The beer does not come from a barrel but actually from a tank which according to visitors is said to have a better taste. Índalo Tapas has three sites in Madrid, click here to find the nearest place to you.
Located parallel to Madrid's main street, Gran Vía, El Rincón Abulense is also a place to visit when you and your friends are looking for a central place to get together. They have all kinds of tapas including meatballs, Russian salad, chicken wings and more. Each drink and tapa combination costs around 2€. That's not bad when you want  to catch up with friends and enjoy free small meals, right? Click here to see where it is and enjoy free tapas!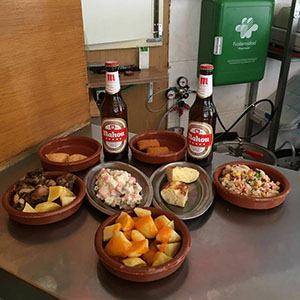 Hungry but broke?  Los Amigos restaurant will become your 'friend' when you find out how inexpensive their drinks are see just how much tapas they give you. During the weekdays the restaurant does not have many clients but, when the weekend comes around, this place can get packed. This bar is fairly small and it is a great place to watch a soccer match with friends! Click here for directions!
The quality of food in this particular restaurant is decribed by many visitors as the best of all. You should stop by early before rush hours because it can get very full. When you buy a caña you receive a full plate of tapas for free! Some tapas include fried potatoes and ham, fried calamari, Spanish omelet, etc. The service is quick and the waiters are typical Spanish. Get here directions here.
Instead of traveling to Granada to try typical tapas from that area, get it right here in Madrid! It is affordable and great quality. They have a variety of options for tapas but one of the most famous picks are 'bienmesables' and 'molletes'. Take a look at their menu options and click here for directions.
La Rosa
Located in Lavapies, bar La Rosa is said to have the best Spanish tortilla in the city.  For only 1,20€ you can enjoy not only the best tortilla in Madrid but also other free tapas like 'chorizo' and 'jamón'. The best thing about this restaurant is that the tortilla is made right in front of your eyes using a secret family recipe. If you want to visit a typical Spanish bar to enjoy tapas with friends, Bar La Rosa is the way to go.
These are 7 of the best bars that offer free tapas when you order a drink but there are quite a few more in Madrid. What is your favorite?
If you're thinking about moving to Madrid, check out our TEFL program to find out how to become a certified English teacher in a month with 100% job placement guaranteed 😉