Reduce,
Reuse, Recycle are words many of us have heard since we were young. While the terminology may differ from country to country, the idea remains the same. Help the planet by recycling materials to be used in other forms in an effort to reduce the impact we each have on this big beautiful blue ball. In this blog we'll guide you through recycling in Spain and will give you some ideas on how you can reuse some of the things we tend to throw away.
Moving to Spain doesn't mean that you have to stop reducing your carbon footprint! Recycling in Spain is actually quite simple when you get the hang of it. Here the trash is collected in communal trash containers that are located in the street. Each neighborhood has bins where you can put your recycling, separated by the different materials. Get into the street and get to know where they're located. Here's a quick guide:
Bring your trash to Class!
You can also turn your trash into treasure by bringing it into the TEFL classroom and using it for crafts! These on-hand classes help students to learn how to listen and give directions, put phrasal verbs into action and finish the class with fabulous crafts in hand!
Here are a couple of quick ideas you can use: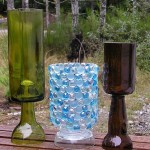 One of the most diverse things to use (and one we all have in excess ;)) is a wine bottle. There are so many things you can do with it, from turning it into a candle holder, vase for flowers or just a decorative piece for your mantle. It's a great craft for adult & young learner's classes.  Find more ideas here.
Our next suggestion involves the classic toilet paper/paper towel roll. While there are so many different things you can do with it, one of the all-time favorites and classics is this beautiful flower wall art! It's simple, fun, and materials are quite minimal! Again, perfect for adults and young ones!
Lastly, upcycle your soda cans – they're crafting gold! Not only are they easy to come by, but they're also very versatile. From jewelry & bags to lanterns & wind chimes, you can do it all with aluminum cans! As this particular material can be sharp when cut, only use in classes with older children and adults.
Have you had problems recycling in Spain now that you live here? What ways have you helped to recycle in Madrid? Post your tips on our Facebook page.