In part 1 of our blog post, we talked about some wonderful places to travel to in the North and South of Spain. We've really only made a small dent in your options because there is still so much more to say. The Mediterranean area is rich in prime beach real estate and, within a skip and a jump of Madrid, there are some great historical destinations to explore. So let's get right to it and take a look at some wonderful places to travel in Spain.
MEDITERRANEAN
Valencia is Spain's third-largest city and has the most astonishing architecture. You'll find modern museums, delicious 'paella' and miles of beach space. Valencia is brimming with Mediterranean culture. Some historic places you might be interested in are La Lonja, the 15th-century silk exchange market, the City of Arts and Sciences, the Oceanographic Aquarium and the historic Cathedral. Take advantage of the free city tour. The tour is approximately 2 and a half hours long with a friendly tour guide who will take you to the most famous historical places in Valencia.
Paella is one of the most renowned Spanish dishes and is originally from Valencia. When in Valencia you must have paella at least once. Other typical Valencia cuisine is the fresh drink Horchata and Agua de Valencia which is similar to a mimosa – we included a recipt for Agua de Valencia (careful, it's very boozy!).
Barcelona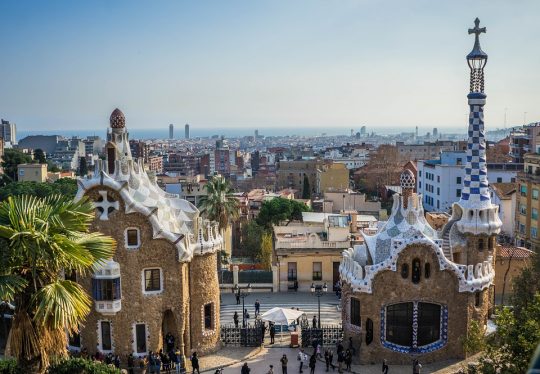 One of the largest cities in Spain, Barcelona is no stranger to tourists. It has some of the most beautiful architecture in Europe thanks to the structures conceived by Antonio Gaudí. You will not run out of places to visit but some of the ones you don't want to miss are Sagrada Familia and Park Güell. If you are a major football (soccer) fan, you might want to take a tour of Madrid's rival team Barcelona FC Museum. Interested in art? Try visiting the Miró Museum, Picasso Museum and National Museum of Art of Catalunya. Then, take a stroll to the Plaça Reial for a relaxing drink located right off the famous street La Rambla. El Mercado de la Boquería is considered to be a gastronomic temple featuring some of the best local ingredients.
Barcelona can be overwhelming with everything that it has to offer so be sure to plan accordingly and get tickets ahead of time to have an enjoyable trip.
NEAR MADRID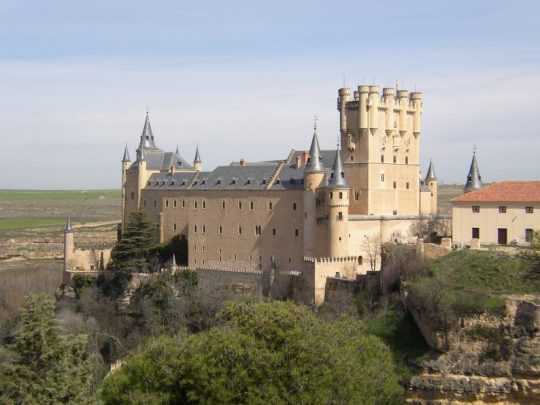 If long-distance travelling doesn't grab your attention, a day trip near Madrid is ideal for you. The medieval town of Segovia is around an hour away from Madrid. People usually prefer bus transportation because it's easier to arrive to the downtown area of the city. Since the town is fairly small, you may want to wear some comfortable shoes and walk around the town.
Visit the Roman aqueduct which is the most significant and well preserved ancient monument on the Iberian Peninsula. You cannot miss the Alcázar of Segovia, one of the castles that served as an inspiration to Walt Disney for the creation of the Sleeping Beauty Castle! After a long walk through town, enjoy a typical Segovian dish called "Cochinillo asado" which is suckling pig. Although it is a pricy dish, it's something Segovia is well known for. For dessert, try the unique "Ponche Segoviano".
Toledo
Known as the home of the Christian, Muslim and Jewish communities, Toledo has a lot of ancient architecture through its streets. One of Spain's finest Gothic cathedrals and the two Sephardic synagogues can be found in the clustered historical place of Toledo. Just like Segovia, Toledo is a fairly small town to visit and can be seen in a day so be ready to walk and roam around town. When it comes to food, Toledo is known for their popular "Carcamusa" which is pork and potato stew in tomato sauce. The marzipan made in the monasteries with almonds, sugar and egg yolks is really tasty. Within a day you can visit the historical town of Toledo so don't wait any longer and book your bus or train ride now!
Visit the home of the most famous Spanish writer and author of "Don Quixote", Miguel de Cervantes. The town is filled with young people as one of the most prestigious universities in Spain, University of Alcalá, is there.
Here there is a great tapas culture and lots of terraces to have a meal in the sunshine. You can take the RENFE cercanías train or something even more exciting, "The Cervantes Train".  As you go from Madrid to Alcalá, a group of actors perform the best-known episodes from "Don Quixote". When you buy a ticket it includes admission to some of Alcalá's famous sites. If you are interested in partaking in this great opportunity, check out their website!
As you can see, Spain has so much to offer when it comes to travel. It's rich in history, gastronomy, culture and beautiful landscapes. If you decide to move to Madrid, you'll see how easy it is to take off and explore these great destinations, each one with its unique characteristics. Ready to move? Learn about how you can get a year visa to live, work and study in Madrid with TtMadrid's TEFL course. We're here waiting for you to start your adventure!