Madrid is an amazing place to live, but it's impossible not to miss Thanksgiving as an American expat. I hosted my first Thanksgiving in Madrid six years ago and it turned into a scavenger hunt as it was near impossible to find all Thanksgiving ingredients in Madrid! 
With turkey day just around the corner, I've compiled a list on where to find those essential Thanksgiving ingredients that will make you miss home a little less during the holidays:
Turkey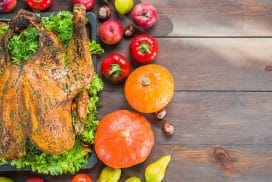 For most of us, it just doesn't feel like Thanksgiving without a real turkey! You might be able to find turkey breasts at most butcher shops but, to get a full turkey, you're going to have to order it in advance as it's not a very popular meat to eat. But, where?!? you might ask. Start by finding your local 'pollería', a butcher that specializes in chicken and other poultry. Since I live in Malasaña, my neighborhood pollería is Herrero. Usually, they can deliver within 24 hours of ordering but I usually order a couple of days before, just to be on the safe side. They will ask how big you want the turkey to be, so make sure you know your pound to kilo conversion – a turkey of about 4 kilos would feed between around 8-10 people. 
If you're too late to be able to order in advance, you might get lucky and find a turkey at the Corte Inglés. For my first Thanksgiving in Madrid I was lucky enough to walk away with the last turkey in the cooler. Tomaaaa! 
When planning your meal, don't to forget that you need the correct oven pan to collect the juices, as some pans here aren't fit for purpose. A little local trick is to buy a one-time foil pan from a Chinese bazaar.
Cranberry Sauce
You can make a killer homemade cranberry sauce using frozen cranberries that you can find in most big supermarkets. Find the recipe here.
However, if you don't want to complicate your life and want to buy it already made, I've managed to get it from 'polleria' Herrero, and Taste of America has several varieties, including the traditional Ocean Spray brand, sometimes it's even on sale for 1€ around at this time of year. Another good option might be going to Dealz. They have lots of things for a really good price and their holiday section is great.
You may prefer to buy fresh cranberries, which you can often find at Gold Gourmet and Mercado de la Cebada. The cranberries do look slightly different than the ones you find in the U.S., though. 
Spices: Rosemary, Sage, Nutmeg, etc.
To make the stuffing, stock for gravy or the turkey rub, you might be looking for fresh rosemary, thyme and/or sage. It is quite difficult to find the plants themselves, but I've been able to hack the system and found that some plant shops have fresh herb plants, including sage, which used to be near impossible to find in Madrid. Again, you can always check these things out ahead of time to make sure you don't end up without. I have also found fresh herbs in Mercado Barceló at most of the fruit stands. Just in case you're not sure how to say these in Spanish, rosemary is 'romero', thyme is 'tomillo' and sage is 'salvia'.
Nutmeg, a must have spice for pumpkin pie or some sweet potato recipes, used to be harder to find but now you can find it at most supermarkets under the name of 'nuez moscada'. 
Stuffing
We found this recipe and the ingredients are super easy to find in Madrid, so there's no excuse for not making it from scratch!
But… it's Spain and you might be too busy having cañas and tapas to sweat the small stuff, so Taste of America has stuffing for 5,95€.
Online Stores
Sabores del Mundo
and My American Market are online stores to where you can get other hard to find Thanksgiving ingredients, like marshmallows, pecans and canned pumpkin. 
If this is your first time hosting Thanksgiving away from home, it might be less stressful to make it a potluck, or you can check out this blog post on 'How to Prepare a Thanksgiving Dinner in Under 3 Hours'.  Good luck, have fun, and don't forget to load up on mimosas.
Happy Thanksgiving!
Looking for more information on living abroad or teaching English? Check out TtMadrid's blog, or follow TtMadrid on Facebook. TtMadrid offers a four week TEFL course to teach you everything you need to know about how to Teach English as a Foreign Language. For more information contact our TEFL Course expert, Helen.