Do you already have an accredited TEFL course (120-hour on-site, minimum 6 observed teaching practices*) and want to live, work and improve your Spanish in Madrid?
*If your course doesn't meet these requirements, such as an online course, don't worry, and get in touch with Helen (helen@lets.education) and she will talk you through your options.
For those of you that already have a fully accredited TEFL and are looking to live and teach in Madrid but don't have a European passport our Título Propio de Certificate in Spanish Culture and Advanced TEFL II is the perfect course for you! You will receive a University student visa for a year, as well as Spanish classes, paid work placements and an Advanced Teaching Certificate.
If you do have an EU passport, and an accredited TEFL, visit our LifeStyle EU Program page. 
What makes our program unique?
Your Advanced Teaching Certificate
With your program, you'll receive an Advanced Certificate in TEFL through the Universidad Europea del Atlántico and receive extensive training throughout your year's program. These Ongoing Professional Development courses include online teaching, teaching business English and also teaching Young Learners.
Learn Spanish and immerse yourself in the culture
Your Spanish courses are taken with Instituto Cervantes-accredited Spanish academy, LAE Madrid, the leading Spanish school in Madrid. Your course will include 8 weeks of intensive Spanish classes (20 hours per week, plus cultural activities) and Spanish classes in the evening for the rest of the year. We designed the course this way so that you are able to give your Spanish a big push to begin your time in Spain, and then continue to study while you're working throughout the rest of your year.
Paid teaching in Madrid with our TEFL program and visa
We are the only TEFL program in Spain that can offer you legal, straightforward, paid work placements with your visa, where you can work as many hours as you like, anywhere you like. Our program gives you absolute flexibility to decide what type of teaching is right for you.
We will support you throughout the process, as well as advising you about the market and specific companies. Finding a work placement could not be easier – our support team puts you in touch with over 300 agencies and academies so that you can build the perfect timetable, and our reputation for training the best quality English teachers means that you'll be top of the list when it comes to job offers.100% of the qualified teachers who have joined this program have found paid teaching work here in Madrid.
We help you with all of the paperwork for your paid work placements and keep in touch throughout your program.
*You will receive daily alerts for as long as you would like with the top jobs in the market!*
What does our program include?
8 weeks of Intensive Spanish Classes (20 hours per week), plus cultural activities and workshops at our Instituto Cervantes accredited Spanish Academy), LAE Madrid, which is located on campus
7 months of evening Spanish classes at LAE Madrid
7 months of Ongoing Professional Development
We set up your appointment for your NIE number (identity number you'll need to live here) and provide you with all the necessary paperwork
A year's visa, including support with paperwork and guidance through the whole process
Our premium employment support service to help you find legal, paid, work placements
Lifetime assistance and support, from when you first get in touch and for as long as you want to stay in touch. We have students still coming to us for advice 10 years later!
Help setting up a bank account
Accommodation Support
Price
2900€
€800 deposit to reserve your place
€1000 four weeks before the start of the course
€400 final payment during the first week of the course
When can I start?
You can start any time! We take new students every week, all year round.
What is my next step?
Email Helen on helen@lets.education with a copy of your CV or an explanation of your background, goals and a scanned copy of your TEFL qualification. She will take it from there!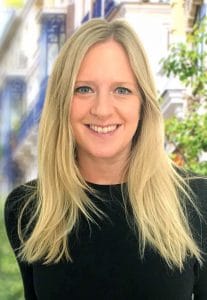 Helen is our Academic Program Manager and she knows everything there is to know about visas, TEFL courses, and Spain. She has helped hundreds of students through the visa process so knows exactly how it works. Once you get here you need to have a couple of appointments to finish off the process and we guide you through those too.
Check out our blog about living and working in Madrid, as well as lots on Teaching English as a Foreign Language.